P*rno for Pyros, the renowned alternative rock band formed by Perry Farrell after the dissolution of Jane's Addiction, is set to make a triumphant return to the stage in honor of their 30th anniversary. This North American tour will mark their first tour since 1998, igniting nostalgia and excitement among devoted fans who have long-awaited their reappearance.
The Lineup and Ticket Information
The much-anticipated US tour for "The Horns, Thorns, and Halos" is scheduled to commence in October, promising an electrifying experience for concertgoers. The touring lineup comprises Perry Farrell, Stephen Perkins, Peter DiStefano, and Martyn LeNoble.
Tickets for the tour will be available for purchase starting July 14 at 10 am local time through Live Nation. For more updates and news about the tour, fans can also visit the official website.
Tour Dates and Locations
The North American tour will span across several cities, starting in Wheatland on October 8, 2023, and concluding in Austin on November 20, 2023. Here's a list of the dates and locations for the upcoming tour:
October 8, 2023 – Wheatland, CA – Hard Rock Live Sacramento
October 10, 2023 – San Francisco, CA – The Masonic
October 13, 2023 – Los Angeles, CA – The Wiltern
October 15, 2023 – Las Vegas, NV – House of Blues Las Vegas
October 17, 2023 – Salt Lake City, UT – The Union*
October 19, 2023 – Denver, CO – Fillmore Auditorium
October 21, 2023 – Omaha, NE – Steelhouse Omaha
October 23, 2023 – Madison, WI – The Sylvee
October 24, 2023 – Chicago, IL – Byline Bank Aragon Ballroom
October 27, 2023 – Detroit, MI – The Fillmore Detroit
October 29, 2023 – Port Chester, NY – The Capitol Theatre
October 30, 2023 – Boston, MA – MGM Music Hall at Fenway
November 1, 2023 – New York, NY – Manhattan Center Hammerstein Ballroom
November 3, 2023 – Bensalem, PA – Parx Casino and Racing*
November 5, 2023 – Silver Spring, MD – The Fillmore Silver Spring
November 7, 2023 – Charlotte, NC – The Fillmore Charlotte
November 8, 2023 – Atlanta, GA – Tabernacle
November 15, 2023 – Nashville, TN – Ryman Auditorium
November 17, 2023 – New Orleans, LA – Fillmore New Orleans
November 19, 2023 – Dallas, TX – House of Blues Dallas
November 20, 2023 – Austin, TX – Stubb's Waller Creek Amphitheater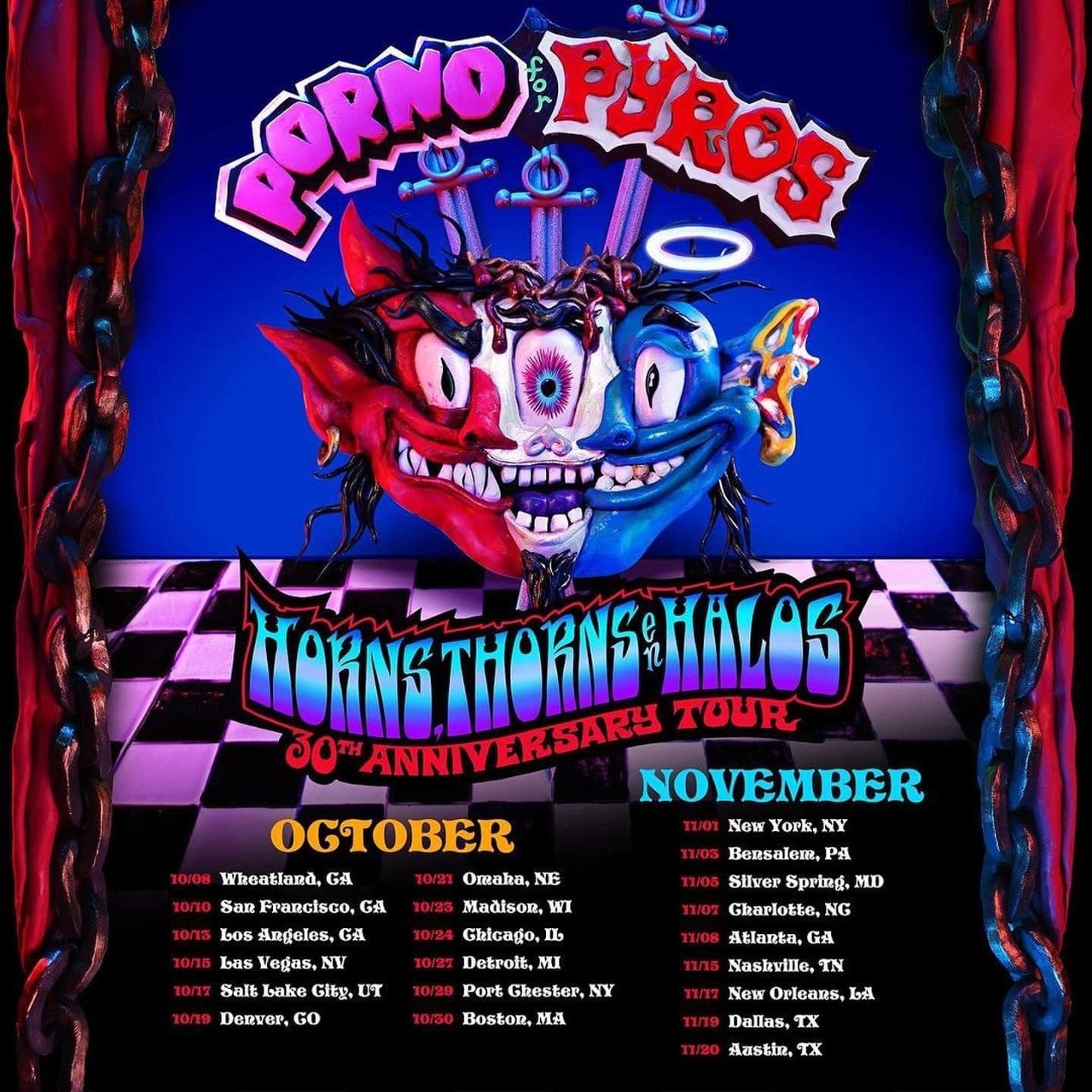 Formed in 1992 by Perry Farrell and Stephen Perkins, both members of the iconic band Jane's Addiction, P*rno for Pyros carries a distinct sound characterized by their blend of alternative rock, psychedelic rock, and funk influences. The band's self-titled debut album released in 1993 garnered critical acclaim and commercial success, featuring hit singles such as "Pets," "Cursed Female," and "Meija." Their music is known for Farrell's unique vocals and eclectic songwriting style.
In 1996, the band released their second and final album, "Good God's Urge," which showcased a more experimental and eclectic sound compared to their debut. With singles like "Tahitian Moon," "Hard Charger," and "Porpoise Head," the album continued to push musical boundaries.
Despite their impact, P*rno for Pyros disbanded in 1997, with members pursuing various musical endeavors. Perry Farrell continued his musical journey through solo albums and the establishment of the renowned music festival Lollapalooza.
Conclusion: A Resurgence of Music
As P*rno for Pyros embarks on their 2023 North American tour, their music's legacy lives on. With their distinct blend of genres, experimental sounds, and captivating lyrics, the band continues to be celebrated by fans of alternative rock and remains an influential force in the music industry.
For fans looking to express their appreciation for the band's unique style, corkyshirt offers a range of creatively designed shirts that pay homage to P*rno for Pyros and other iconic musical artists. Discover your favorite designs and show your love for alternative rock in style!
---
Don't forget to check out our website Corkyshirt for more about trending concert t-shirts!
American Rock Band Best Of Porno For Pyros Unisex T-Shirt
An ideal shirt as a trending concert gift
BUY NOW
Porno For Pyros Tour 2023 Horns Thorns En Halos Concert T-shirt
An ideal shirt as a trending concert gift
BUY NOW
Porno For Pyros 30th Anniversary 2023 Music Tour Double Sided Concert T-Shirt
An ideal shirt as a trending concert gift
BUY NOW