In Hulu's latest sci-fi thriller, "No One Will Save You," now available for streaming, Kaitlyn Dever embarks on an hour and a half of intense battles with extraterrestrial forces—without uttering more than a few words.
Emmy and Golden Globe-nominated actress Kaitlyn Dever takes on the role of Brynn, an apprehensive homebody jolted awake one night by the intrusion of otherworldly beings into her home. Brynn's struggle to defend herself against the enigmatic "Greys" begins just minutes into the film. However, as the storyline unfolds, we discover Brynn's hidden trauma through her wordless interactions with fellow townsfolk.
Brian Duffield, the film's writer-director, shared his creative process with Entertainment Weekly, explaining, "I had this idea for the character of Brynn. I knew all of that backstory and the life she lived, and I didn't really know what to do with it." He continued, "Then I had the idea of an alien movie. I got really into this idea that these invasions, these disasters happen to everybody, no matter what's going on in their life. In my brain, [the two plots] made sense together. Having someone barely equipped to deal with people [and] having to engage with this threat felt like a very fresh way into that story."
Remarkably, aside from a single line delivered by Dever in the movie's climax, "No One Will Save You" unfolds its narrative entirely without spoken dialogue. Duffield revealed that this choice arose organically in the creative process, amplifying Brynn's character and her internal struggles.
Duffield elaborated, "It was a character thing where this person really wants a community and doesn't think she's deserving of one. It felt like that device just amplified her character." He added, "Most of the movie, there's not really a good reason for her to talk because she's trying so hard to not make a sound. She's not going to say, 'It's an alien in my house!' Also, when you have Kaitlyn Dever, she doesn't need to say anything. She can monologue with her eyes in a really impressive way."
Audiences have responded positively to the film's innovative approach, with many praising its unique narrative style. One viewer wrote, "What an absolute class on filmmaking," describing "No One Will Save You" as "a home-alone-girl horror movie" where the masked killer is an extraterrestrial visitor. With no spoken dialogue throughout the entire film, it manages to captivate viewers in an extraordinary manner.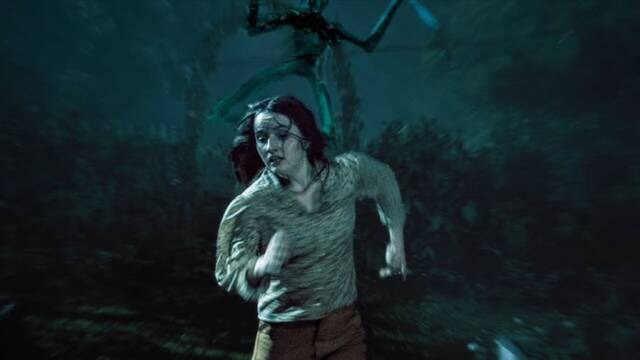 As you delve into this gripping thriller, don't forget to explore trending themes and merchandise on Corkyshirt, where you can find a wide range of apparel inspired by your favorite movies and stories.
---
Spider Punk Hobie Brown Across the Spider-Verse The Spider-Man Shirt
An ideal shirt as a trending movie gift
BUY NOW
Hobie Brown The Amazing Spider-Punk T-Shirt For Spidey Fans
An ideal shirt as a trending movie gift
BUY NOW
Wheel Of Time Final Season Al'thor And Son Farm T-shirt
An ideal shirt as a trending movie gift
BUY NOW